According to recent survey data from the Pew Research Center, 28% of American smartphone owners say they don't use a screen lock to secure their devices. And while the Pew report didn't go into specific details as to why not, it's quite easy to imagine some of the common reasons that these smartphone owners might offer. For example, concerns about having to remember yet another password or the inconvenience of having to type in a password every single time you use your phone are likely at the top of the list of excuses.
Fortunately, there are a number of other ways to keep your smartphone secure and protected without having to use a screen lock password. Two of the most widely used alternatives are Touch ID and Face ID. Developed by Apple for iOS systems, these biometric authentication systems now come standard on recent iPhone and iPad models. Read on to learn more about these two technologies and what to be aware of when using them.
Touch ID
What is Touch ID?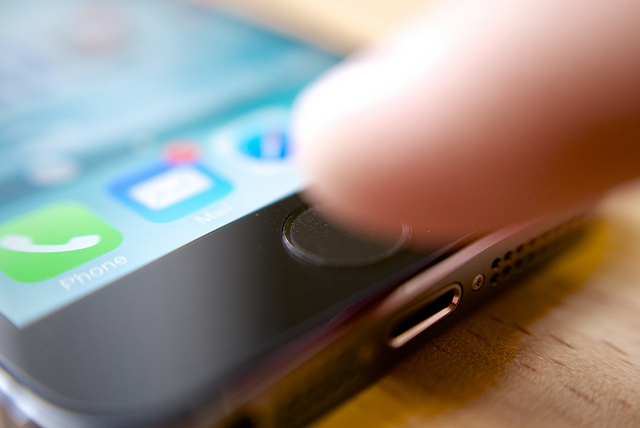 Simply put, Touch ID is a fingerprint reader that Apple has built right into the Home button on all recent iPhones and iPads. The reader features a scratch-resistant sapphire glass lens that protects and helps to focus the sensor and a surrounding color-matched steel ring. When the ring is triggered by the pressure of your finger, the Touch ID sensor is activated and snaps a high-resolution picture of your fingerprint. This is then compared against the image that's securely stored on the Apple A-series chip set. If the two prints are a match, then Touch ID releases a "yes" token that unlocks your device. If they're not, a "no" token is released and the device remains locked.
How to set up Touch ID.
The Touch ID setup process can be launched from the Settings app (note that a passcode is required for authorization before embarking on this process; you'll be prompted to create one if you don't already have one). Basically, you'll just need to repeatedly press your finger on the Home button at different angles so that a complete picture of the entire surface of your finger can be assembled and stored. If you like, you can add up to five fingerprints so that family members and friends can have access to your device without the need for a password.
Touch ID limitations to keep in mind.
Touch ID is a convenient way to securely access your device, but it does have one major limitation: namely, your finger must be completely clean and dry or else the sensor simply won't register your fingerprint. If your hands are greasy from cooking or wet from washing your hands, for example, Touch ID likely won't be able to get a clear enough picture of your fingerprint to allow access. Similarly, Touch ID isn't necessarily the best choice for use outside in the winter, when you'll likely be wearing gloves to keep your hands warm.
Face ID
What is Face ID?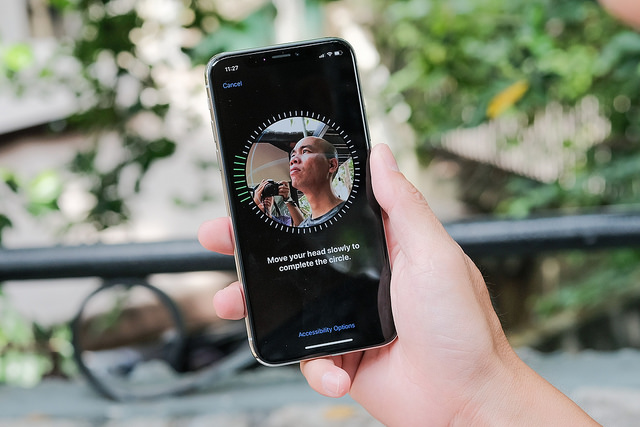 While Touch ID has been around for a little while, Face ID is a much newer biometric authentication system (currently only available on the iPhone X). In principle, it's similar to Touch ID except that, instead of taking a picture of your fingerprint for comparison, it uses a complex camera and sensor system, known as the TrueDepth camera system—to take infrared images of your face. The resulting data is securely stored in the Apple A-series chipset enclave.
How to set up Face ID.
While it may be a highly sophisticated technology, Face ID is even easier to set up than Touch ID. You can launch the setup process from the Settings app on your Home screen. The setup screen will then prompt you to position your face inside a circle that appears on the screen and to slowly move your head in a circle (this allows the camera system to capture your face from different angles, just as the Touch ID sensor did for your fingerprint).
Face ID limitations to keep in mind.
While Face ID solves the problems associated with Touch ID, it introduces some new limitations of its own. First of all, the camera must be able to recognize your face in order to authorize you, and because the system uses your eyes, nose, and mouth as identity markers, anything that covers your body such as a ski mask or scarf will impede access to your device. Likewise, if your phone is held in any mode other than portrait, the camera will not scan. Bright sunlight can also prevent Face ID from working properly, as there is not enough texture in an overexposed image for the system to identify you. Finally, in terms of providing access for multiple users, while Touch ID allows this, Face ID does not: only one face per device is permitted.