Thanks to the new pre-paid data roaming service now available from Afghan Wireless, AWCC subscribers can enjoy Internet access on their mobile devices at reasonable prices in 10 international countries, including the United Kingdom, the United States, India, and the United Arab Emirates. If you are a subscriber who has never traveled abroad with a mobile device before, read on for a closer look at what mobile data roaming is and how it works, along with other key details.
What is roaming?
Roaming is the term used to describe what happens when customers use their phones or other mobile devices outside of their network operator's standard geographical coverage area. For example, if an AWCC business customer is in a country outside AWCC's coverage area (in Turkey or Iran, for instance) and sends an SMS message or checks e-mail on a mobile phone, they would be roaming because these activities rely on the local network operator rather than the customer's home network. Most roaming tends to be international roaming, which describes activities that take place on foreign or "visited" networks; this is because network operators are typically able to provide coverage throughout the whole of their home country, so roaming does not take effect unless a customer travels abroad.
What are the most common roaming activities?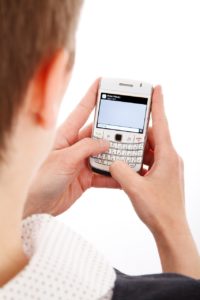 One of the most common roaming activities for international travelers is sending and receiving SMS text messages; this is known as SMS roaming. Most other common roaming activities fall under the category of data roaming, as they rely on the use of mobile data services. These activities include:
MMS messaging—exchanging rich multimedia messages from abroad with other 3G or GSM customers, who may be either at home or traveling internationally themselves.
Push e-mail—accessing, receiving, and sending e-mails while abroad. The term push derives from e-mails being automatically "pushed" to mobile devices such as smartphones and tablets.
Handset Internet—accessing Internet services, including websites, social media platforms, and video streaming, from a mobile device while abroad.
Mobile broadband—using data cards or USB dongles to allow laptops to connect to the Internet while abroad.
How do data and SMS roaming work?
The same principles that enable voice roaming are at work in SMS and data roaming. If you are traveling abroad and you turn on your mobile device, it will attempt to find and communicate with the local GSM or 3G network. This visited network identifies your device's signal, notes that you are using a visitor device, and tries to identify your home network. If your device is allowed by your home network to roam—that is, if there is a data roaming agreement between your home network and the network you are visiting—your device will then have access to the data roaming services provided by the visited network.
What kind of data traffic volumes does mobile data roaming use?
It's important for customers using pre-paid data roaming services to be aware of the volumes of data that each different roaming activity uses. These are typically measured in either kilobytes (KB) or megabytes (MB); the resulting measurement describes how much data is transmitted for each service used or accessed.
For example, an e-mail that does not contain an attachment usually uses anywhere between 1 and 50 KB of data; likewise, sending or receiving MMS messages (without large file attachments) uses several dozen KB per day. Accessing a standard webpage, on the other hand, can take up to several hundred KB—even more if the webpage has complex graphics, video, or other features.
Downloading or streaming audio and video can quickly increase data traffic volumes. Depending on length and audio quality, a downloaded song can consume 2 to 5 MB of data. Mobile broadband volumes are even more data intensive, as downloading presentations and pictures or working with other laptop-based applications can easily run to 10 MB or more.
What are the different SMS and data roaming plans available?
Different network operators offer different data roaming fees and bundles in order to accommodate distinct data services and needs. Mobile users who are not AWCC customers should check with their local provider about available roaming options. Typical categories include:
Standard roaming tariff—a default option; for customers who have not activated or accessed a specific roaming tariff option and are therefore charged a default fee according to their data usage. This option is best for customers who only occasionally require roaming and have low volumes of data use.
Special roaming tariff—aimed at customers who roam regularly and have low to average data volume usage, a special roaming tariff is typically a monthly fee that gives the customer a lower data roaming tariff.
Daily roaming bundles—charging for a single day of data roaming, this option offers a fixed fee for data roaming up to a specified usage limit. This is best suited for business travelers and other customers who roam only occasionally but have high-volume data requirements when they are away.
Monthly roaming bundles—popular among customers who roam regularly and require high data volumes, this plan includes data up to a specific ceiling for a fixed monthly fee.